Order Confirmation, Track Order and Lost Orders
Order Confirmation
Order Status, Delivery Date and Tracking
Order Missing Items or Lost
Contact Customer Care

---
You will receive a confirmation email after placing your order. If you paid by credit card, you will receive the confirmation email once your credit card is approved. Otherwise, you will receive an email notifying you that the credit card failed and instructions on how to resubmit your payment.

If you no longer have your order confirmation email, you can view your information, such as order status and delivery dates, in Your Account. If you have not received a confirmation email, please contact Customer Care.

Email confirmation includes order number, the estimated date of arrival, access to your account, address its shipping to, the item and order summary.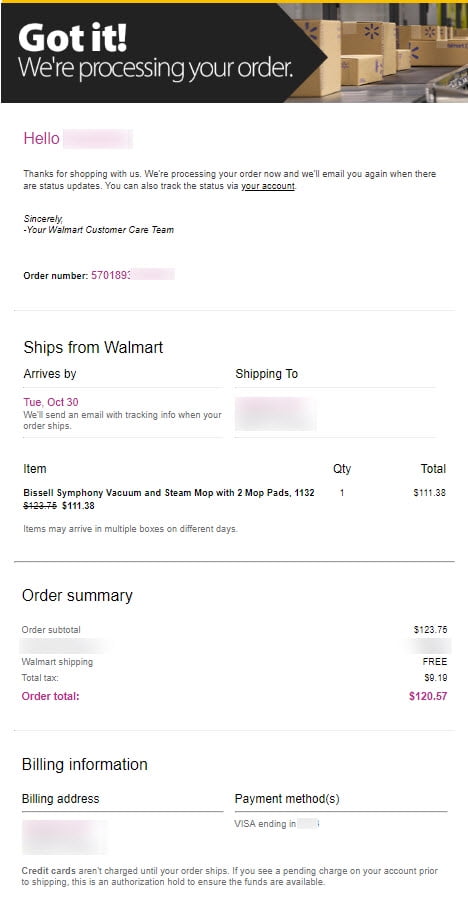 ---
The status of your order can always be found in
Your Account
.
Select Your Account at the top right of most Walmart.com pages and sign in

Select Track Orders or Account from the drop down list to see tracking information

Each item shows the status to the right of it


If there is no Tracking Information:
Tracking is not available for orders that have a "Processing" status
Tracking can take up to 48 hours to update after an order is shipped
Not all orders will have a tracking status from the shipping carrier

Tracking shows delivered, but I cannot find it:
Within 48 hours of the delivery confirmation:

Look for a notice of attempted delivery left by the carrier, maybe they left it with a neighbor or in a secure place
Look around the delivery location for your package, such as in your porch, by your garage etc.
See if someone else in your household or maybe your neighbor accepted the delivery
Verify the shipping address used by the carrier (see tracking) and on your order (see your order) was correct
Some packages travel through multiple carriers, so check your mailbox or wherever you normally receive mail

has not been 48 hours after deliver confirmation:

Please wait 48 hours, in some cases packages say delivered before they arrive at the final shipping address
---
If your order is missing items or parts, see Your Order is Missing Items
If after 48 hours, you still have not received your order, see My Order has not Arrived
If the issue is not addressed above, see Problems with your Order
Return to the top of this page
---
Still need assistance? Please contact Customer Care with your order number.
Return to the top of this page